Tokyo COVID-19 Mimamori Service Being Introduced
To ensure our guests' safety and peace of mind as they use our halls and meeting rooms, Tokyo International Forum Co., Ltd. is introducing the Tokyo COVID-19 Mimamori Service beginning Saturday, August 1, 2020.
Provided by the Tokyo Metropolitan Government, this service is linked to efforts to quickly detect and notify people when they may have been infected with COVID-19, in order to work with the "new normal" and strengthen Tokyo's preparations for a possible second wave of infections.
1.Tokyo COVID-19 Mimamori Service Overview
This service aims to quickly notify users of metropolitan facilities when a facility experiences a cluster of COVID-19 infections, based on the
facility's visitor records.
To use the service, simply scan the QR code displayed at venue entrances using your smartphone camera. Any notifications will arrive via the
service you chose when registering.
For details, see the Tokyo COVID-19 Mimamori Service website.
https://www.metro.tokyo.lg.jp/english/topics/2020/0618_01.html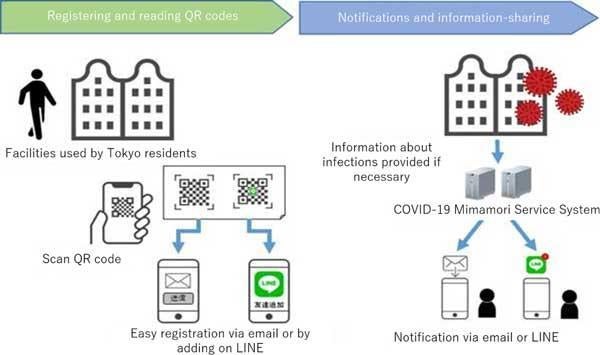 *If a cluster outbreak occurs, this service enables the risk of infection to be ascertained quickly, so that action can be taken to prevent the     spread of infection to others.
*The service will end when concern regarding the disease has lessened, such as following the development of an effective treatment or vaccine.
2.Location of QR Code Displays inside Tokyo International Forum Facilities
For halls, the codes will be displayed at the entrance to each hall. For the Glass Building meeting rooms, they will be displayed in the elevator  hall on the floor where the meeting room is located.
Please note that registration with this service is voluntary and is not required for admission to the facilities. However, we do kindly ask our
guests for their understanding and cooperation in this effort to prevent the spread of COVID-19.